We're pleased to announce support for Comma Separated Values (CSV) file import in the Hebcal Yahrzeit + Anniversary calendar. You can now create a personal list of Yahrzeit (memorial) and Yizkor dates, Hebrew Birthdays and Anniversaries for 20+ years by importing a CSV file.
The file must be formatted carefully for the import to work correctly.
The CSV file may contain 1-4 columns. Column names and types are listed below. A header row is optional.
Date: mm/dd/yyyy. Gregorian date of death (or birth), USA date format with 4-digit year.
Name: If blank, defaults to Person1, Person2, …
After sunset: true or TRUE for after sunset; false, FALSE, or (blank) for before sunset. If blank, defaults to false.
Type: Yahrzeit, Birthday, or Anniversary. If blank, defaults to Yahrzeit.
Example file: yahrzeit-example.csv
To try it out,
Click on the Import tab
Choose a CSV file to upload from your device
Click the blue Import button
Click on the Form tab to review the imported data
Scroll to the bottom of the page and click the Create Calendar button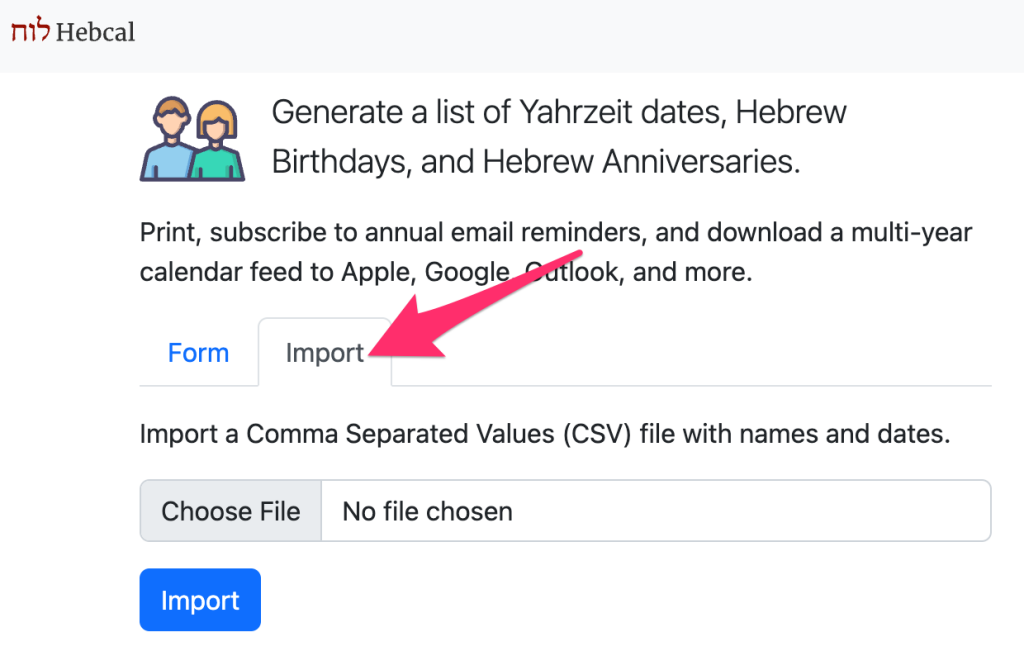 Once you have created your personal yahrzeit calendar, you'll be able to subscribe to free annual email reminders & calendar downloads.