Follow these instructions to subscribe to a Hebcal Jewish Calendar 5-year feed for BlackBerry Desktop Manager on Mac OS X:
Connect your BlackBerry device to your computer.
On your computer, in the Applications folder, click the BlackBerry Desktop Manager icon.
In the Information section in the left pane, click Calendar.
In the Sync Calendar field, click Two Way.
Perform one of the following actions:

To synchronize all your calendars, click All Calendars.
To synchronize specific calendars, click Selected Calendars. Select the check box beside one or more calendars.

In the Add events created on BlackBerry device to list, click the calendar on your computer that you want to synchronize the calendar entries from your device to.
To select the type of calendar entries that you want to synchronize, in the Advanced Settings section beside the Sync field, click an option
Click Sync.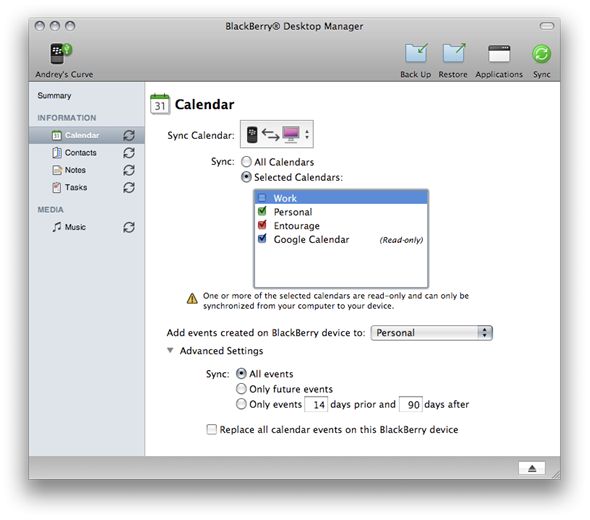 Included in the Hebcal Jewish holiday downloads are options to select major holidays (Rosh Hashana, Yom Kippur, Pesach, etc.), minor holidays (Purim, Chanukah, etc.), special Shabbatot, public fasts (Tish'a B'Av, etc.), Rosh Chodesh, and modern holidays (Yom HaAtzma'ut, etc.).