Follow these instructions to subscribe to a Hebcal Jewish holiday calendar 5-year feed in Microsoft Outlook 2011 for Mac OS X:
Open a web browser on your Mac OS X computer.

to download holidays and candle-lighting times, navigate to http://www.hebcal.com/hebcal/
OR, to download Yahrzeit + Anniversary calendar, navigate to to http://www.hebcal.com/yahrzeit/

Fill out the form with your preferences and click the Create Calendar button
Click the Download… button
Select the Outlook 2011 (Mac OS X) option from the Download dialog box
Click on the Jewish Calendar YYYY.ics download button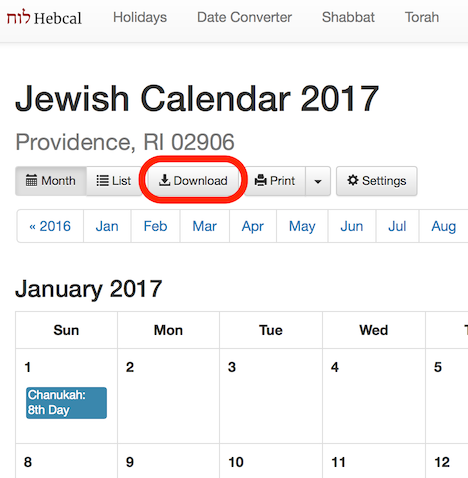 Next, find the downloaded .ics file (typically in your Downloads or Desktop folder). To get the Jewish holidays to show up with a color-coded category, be sure to drag and drop the .ics file you downloaded onto one of the category labels on the left pane as follows:
If you simply drag the .ics file to Outlook 2011 icon in your dock or double-click on it, it will get categorized and color-coded as "No Category" which is probably not what you want.
Included in the Hebcal Jewish holiday downloads are options to select major holidays (Rosh Hashana, Yom Kippur, Pesach, etc.), minor holidays (Purim, Chanukah, etc.), special Shabbatot, public fasts (Tish'a B'Av, etc.), Rosh Chodesh, and modern holidays (Yom HaAtzma'ut, etc.).